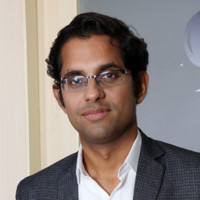 Trivikraman Thampy
Founder-CEO Games24x7 at Games24x7 Pvt
Vikram Thampy is an Aerospace Engineer turned Economist turned amateur poker player turned gaming entrepreneur. It was Vikram's love for monetary and development economics that led him to pursue his PhD in Economics, but he eventually fell in love with behavioral economics - the study of psychology as it relates to the economic decision-making processes of individuals and institutions.

Being an ardent gamer with great passion for games that require statistical decision making, in 2005 Vikram saw a massive opportunity for such games of skill in the Indian market. In 2006 he partnered with his friend Bhavin Pandya to start Games24x7, and he is proud today to be part of a company whose singular focus is on the science of user behavior, and building technology to leverage that science and deliver awesome game playing experiences.

Through the 14 years that he has led this business with Bhavin, Vikram has had steadfast focus on two things - what drives player behavior and how to leverage technology and data science to deliver better player experience and superior business outcomes. He is happiest when he is deep diving into spreadsheets and models with his team trying to uncover something new about players.
More Profiles For Executives