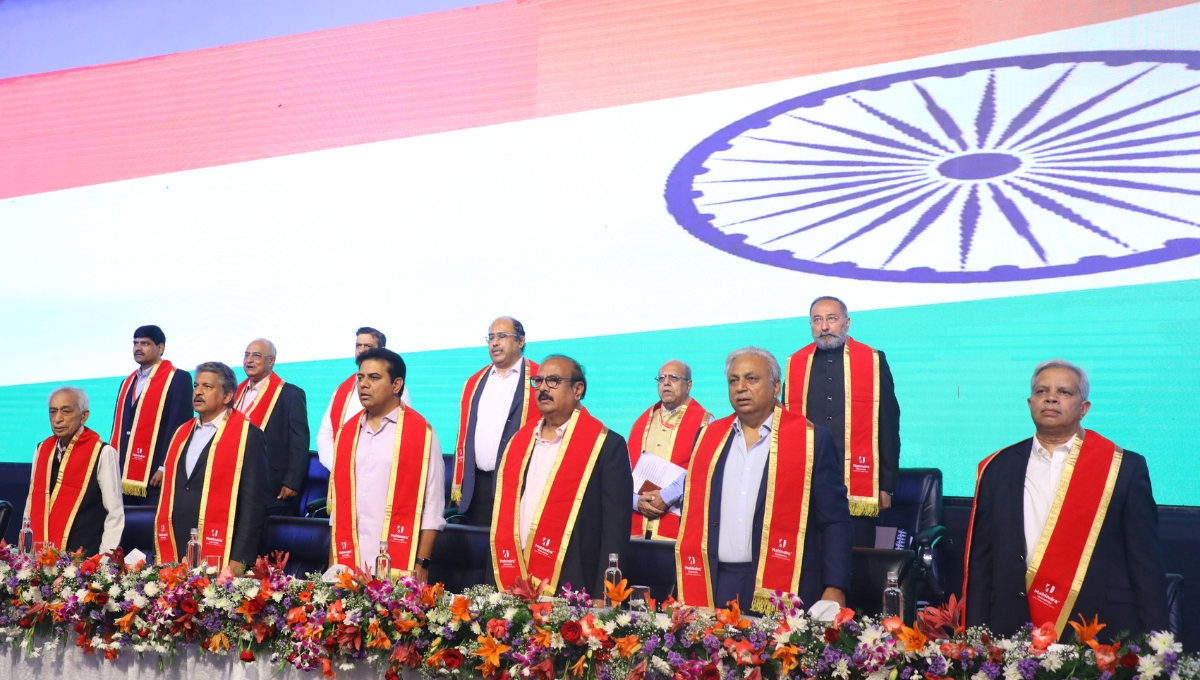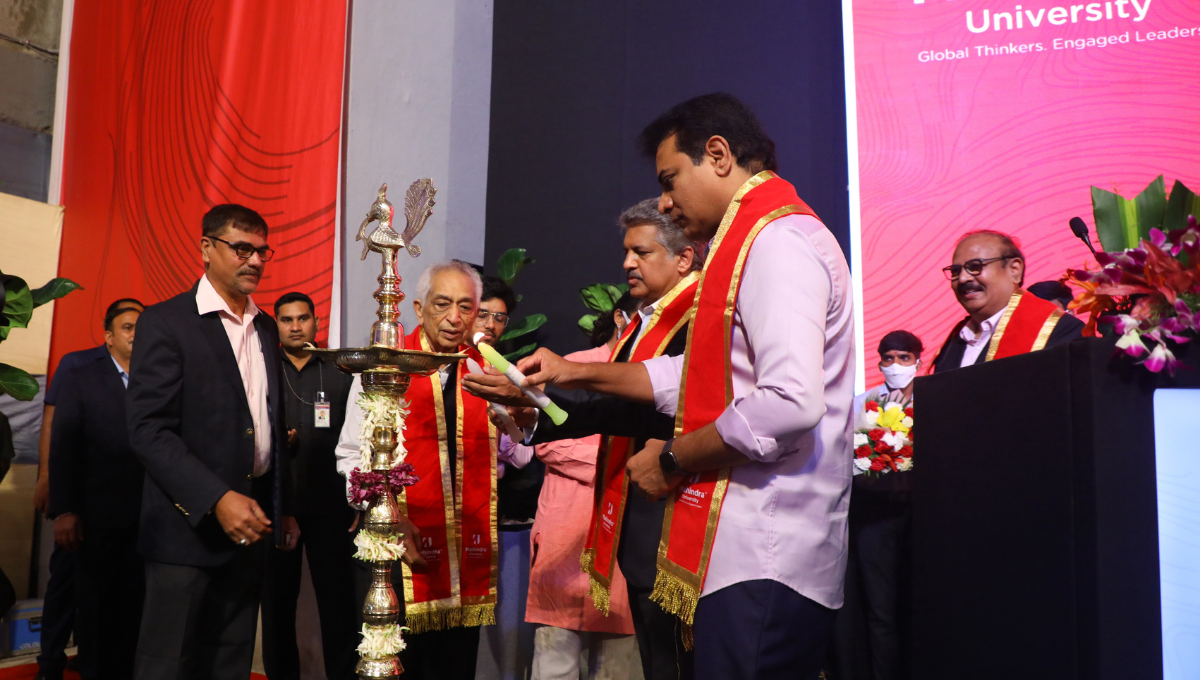 Mumbai, 23rd July 2022: Mahindra University, one of India's fastest-growing multidisciplinary educational institutions, held its 1st Annual Convocation at the Mahindra University Campus in Bahadurpally today. The Convocation Address was delivered by the Chief Guest Shri KT Rama Rao, Hon'ble Minister, Government of Telangana in a ceremony presided over by Shri Anand Mahindra, Chancellor, Mahindra University in the presence of the Guest of Honor Dr. Krishna Ella, Chairman, Bharat Biotech International and other esteemed dignitaries.
Spearheading interdisciplinary global education agenda with a focus on Research & Development and higher learning, Mahindra University has signed a Memorandum of Understanding with Tech Mahindra, a leading provider of digital transformation, consulting and business reengineering services and solutions to jointly build a Centre of Excellence in the Mahindra University premises which will facilitate joint R&D across new age technology domains, such as, Quantum Computing, XAI (Explainable AI) and Metaverse. The Partnership aims to augment skill development to address the skill-gap in new-age technologies and thereby creating more job opportunities.
Shri KT Rama Rao in his Convocation Address said, "As the world is getting older, India is getting younger and the youth in our country is brimming with ideas and energy and wants to take on the world with an aspiration that is truly global. We are very close to the cherished milestone of 75 years of independence of our glorious nation and these milestones are occasions when we have to think about our future. The Indian youth have the unique ability and the opportunity of shaping the future of the modern world. I do hope that each one of you step out into this world as young people, not only with great knowledge and skills but also who want to contribute to the betterment of society and become changemakers once again. I wish all the students and award holders, the very best for their future."
Shri Anand Mahindra commented, "Mahindra University is committed to the synergistic working of all its constituent institutions. An interdisciplinary education will help accelerate the trend toward 'whole-brain' thinking, which integrates both the Sciences and Humanities. India has the potential to become a global centre for this model of futuristic education."
"Skill development and talent management are critical to the growth of Corporate Sector as well as for the Country. With an experiential learning approach, we can help the young minds to realise their potential and contribute to the economic growth of the Nation." said Shri Vineet Nayyar, Chairman, Mahindra Educational Institutions.
Shri CP Gurnani, MD & CEO, Tech Mahindra, who has remained very closely involved in the development of Mahindra University said in his address "Digitalization is fundamentally changing the rules of play, hence we are investing heavily in skilling our students in next generation digital technologies to help them remain on top. The MOU between Mahindra University and Tech Mahindra will allow us to focus on contemporary learning while enhancing skill development of Students. In this, we aim to leverage technology while collaborating and co-creating a future-ready talent pool to bridge the skill-gap."
Dr Yajulu Medury, Vice Chancellor, Mahindra University stated "Mahindra University was established with the sole vision of creating Global Thinkers and Engaged Leaders through an International curriculum and research-based learning. We are proud of our Graduates and wish them the very best in their endeavors."
The Convocation also featured the inauguration of MU's state of art X-Ray Diffraction Facility, which would facilitate research and development across molecular science. Additionally, the state-of-the-art Lecture Hall Complex, with a total capacity of 500 students was also inaugurated.
About Tech Mahindra
Tech Mahindra offers innovative and customer-centric digital experiences, enabling enterprises, associates and the Society to Rise. We are a USD 6 billion organization with 151,000+ professionals across 90 countries helping 1224 global customers, including Fortune 500 companies. We are focused on leveraging next-generation technologies including 5G, Blockchain, Quantum Computing, Cybersecurity, Artificial Intelligence, and more, to enable end-to-end digital transformation for global customers. Tech Mahindra is the only Indian Company in the world to receive the HRH The Prince of Wales' Terra Carta Seal for its commitment to creating a sustainable future. We are the fastest growing brand in 'brand strength' and amongst the top 7 IT brands globally. With the NXT.NOWTM framework, Tech Mahindra aims to enhance 'Human Centric Experience' for our ecosystem and drive collaborative disruption with synergies arising from a robust portfolio of companies. Tech Mahindra aims at delivering tomorrow's experiences today and believes that the 'Future is Now'.
We are part of the Mahindra Group, founded in 1945, one of the largest and most admired multinational federation of companies with 260,000 employees in over 100 countries. It enjoys a leadership position in farm equipment, utility vehicles, information technology and financial services in India and is the world's largest tractor company by volume. It has a strong presence in renewable energy, agriculture, logistics, hospitality and real estate. The Mahindra Group has a clear focus on leading ESG globally, enabling rural prosperity and enhancing urban living, with a goal to drive positive change in the lives of communities and stakeholders to enable them to Rise.
About Mahindra University
Mahindra University, headquartered in Hyderabad (India) is a multi-disciplinary University. It works towards "Educating future citizens for and of a better world" and is envisioned to be a Private University that will play a significant role in driving quality improvements and innovation in higher learning in the coming years. Mahindra University will focus on generating new knowledge through engagement in cutting-edge research, create a spirit of innovation and entrepreneurship and undertake collaborative projects with industry and other academic institutions. In 2021, Mahindra University launched the School of Management, the Indira Mahindra School of Education and the School of Law. These will be followed by the launch of the School of Media and Liberal Arts in 2022. The University is sponsored by Mahindra Educational Institutions (MEI), a subsidiary of Tech Mahindra Ltd.