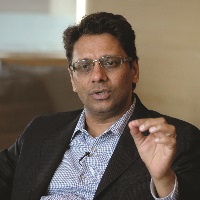 Rasesh Kanakia
Leadership of Kanakia at Kanakia
Rasesh Kanakia was one of the earliest entrants into the multiplex business. He created a robust brand called Cinemax with 138 screens spread across Ahmedabad, Panipat, Nagpur, Hyderabad, Kolkata, Mumbai, Thane, Bangalore and Pune. In 2012, he sold the entire operation to PVR for Rs 395 crore. In one stroke, it made PVR the largest multiplex player edging past Inox and Big Cinemas. Since then, Big Cinemas, at that point owned by Anil Ambani, too has been bought over by the Carnival Group.
The deal between Cinemax and PVR had a non-compete clause for a period of ten years. It also had a lease agreement for 23 screens. That period is set to conclude over the next few months and Kanakia is all set to get back to the business.
In a chat with Business Today, he says the plan is to add around 50 new screens during FY23, taking the total number to close to 75. Kanakia, a familiar name in the real estate business, has the existing screens in Mumbai and greater Mumbai, Nashik and Nagpur. Under a new brand called Cineline, he plans to spread that. "Apart from western India, we want to move to the north and south," explains Kanakia, Chairman, Cineline India, a part of the Kanakia group.
Source: Business Today