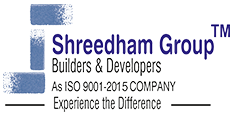 Shreedham Group
Construction In 6, New Link Rd, near Le Gateau Cake Shop, Malad, Ram Nagar, Malad West, Mumbai, Maharashtra 400064
Introducing ourselves as one of the pioneers in the construction industry, Shreedham Group has been a real estate developer for 28 years & still counting.
Established in 1987, Shreedham Group is a Mumbai based company, with its registered office at Malad. Shreedham has been known for offering customized apartments with innovative infrastructure . We cater to corporate as well as individual clients with commercial &residential complexes.
Our credibility has been authenticated & recognized by ISO 9001:2000 Certification, acknowledging our evolving Quality Management System and meeting the latest Customer and Regulatory Requirements.
Having a dedicated team of Highly Qualified Engineers and Industry Professionals, our company has been committed to equal or exceed standards that are demanded. We believe in profitable, sustainable and long-term relationships with all the stakeholders (Clients, Suppliers, Employees, Labourers).
Being a staunch believer and implementer of Customer-centric Approach, we offer reasonably priced structures at unexcelled quality.
6, New Link Rd, near Le Gateau Cake Shop, Malad, Ram Nagar, Malad West, Mumbai, Maharashtra 400064
Company Email: shreedhamsales@gmail.com
Company Contact Number: 022 42336999, 022 65109288, 022 28755111


More Companies For Construction